Dine in style and encourage interaction between guests
If you are a discerning diner who is fed up with 'banners and balloons' and looking for a 'do with a difference' you may like to take advantage of my bespoke dinner party theming service. As with interior design, I will spend time with the organiser of the function and I will gather information about the celebrator in order to suggest a suitable personalised theme. My ideas will be presented on a mood board and you can choose to take some or all of them forward to your special evening.
The venue will of course be your choice, this could be a favourite restaurant, a marquee, at home or wherever you choose. If you are not sure on a venue I am also happy to look for a suitable establishment for the size of your party. I will also be on hand at the event to ensure your celebration runs smoothly. Previous clients have found that, when inviting guests that don't all know each other, the theme has automatically got everyone talking from the word go and by the end of the evening most of the guests have made new acquaintances or friendships.
Your special occasion does not have to necessarily be a surprise for somebody else it maybe you want to organise a celebration for yourself that will be a special memory your friends and family will talk about for years to come.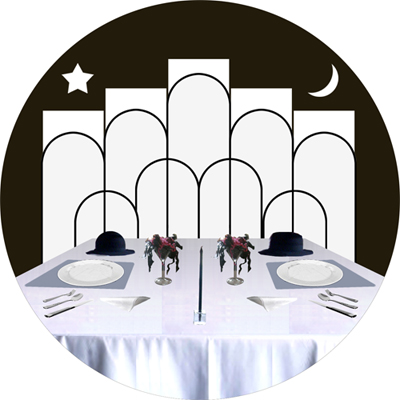 If required, I can also take care of the whole celebration from booking the venue to organising menus and entertainment or even a personal poem or gift for the celebrator. With a strong previous hospitality background, you can expect attention to detail, a fantastic atmosphere and a smooth running event.
This service is ideal for smaller venues or at home. - £% of budget or hourly rate
What my clients say
Creatively Stylish
Abby dressed the venue for my 60th birthday celebration, which was totally transported back to the Art Deco era by her creatively stylish decoration. If you want something memorable I would recommend you give her a call.